Buy NexPoint Diversified (NXDT)
NexPoint Diversified REIT Investment Case
June 15, 2022
Ticker: NXDT
Price: $15.23
Market Cap: $565MM
Price Target: $25
Upside: +64%
Summary:
NexPoint (NXDT) is a closed end fund that is transitioning into a real estate investment trust (REIT). It trades at a 40% discount to NAV and is significantly below where it traded pre-pandemic. Once the transition to REIT is complete, it will be eligible for many more investors to own including funds and ETFs. This will likely drive indiscriminate buying pressure. The CEO of the company owns 25% of the company and has been buying the stock in the open market relentlessly. A near-term re-rate to NAV could drive 50%+ upside, but longer term, a bigger opportunity could materialize as the REIT is repositioned to capture value.
Resources
Good Write Up on Seeking Alpha
Proxy with Slides for why it makes sense to transition to REIT
Company Overview
Background
NexPoint is a little different from my typical recommendation.
It isn't a "company" per se, but a closed-end fund.
The Fund was formed in 2006 and has been operating as a closed-end fund since then.
The Fund has performed poorly since inception, underperforming the S&P 500 by a wide margin.
As of Q4 2021, the Fund had 89% of its assets invested in real estate. Here's how the real estate exposure breaks down:
Source: NexPoint Website
The Fund's real estate exposure is quite attractive, with single-family rental and self-storage as the two biggest area of focus.
The remaining exposure is to a hodge podge of assets that include various securities such as distressed energy warrants, CLOs, other.
What is NXDT worth?
NXDT's NAV is published daily and currently stands at $25.39. It's stock price is $15.20. That's a 40% discount.
Is the NAV accurate? It's hard to know with certainty, but there are two data points that suggest it is…
Data point #1: As of year end, NXDT held its MGM investment at $40MM. In March, that investment was realized at $45MM. NXDT also disclosed that it had indirect investments (CLOs) with exposure to MGM which were expected to generate an additional $81MM in proceeds.
Data point #2: CEO, James Dondero, was the founder of Highland Capital Mgmt and is a sophisticated investor. He's a shark. Would he buying like a madman if he didn't believe NAV was accurate or maybe even conservative?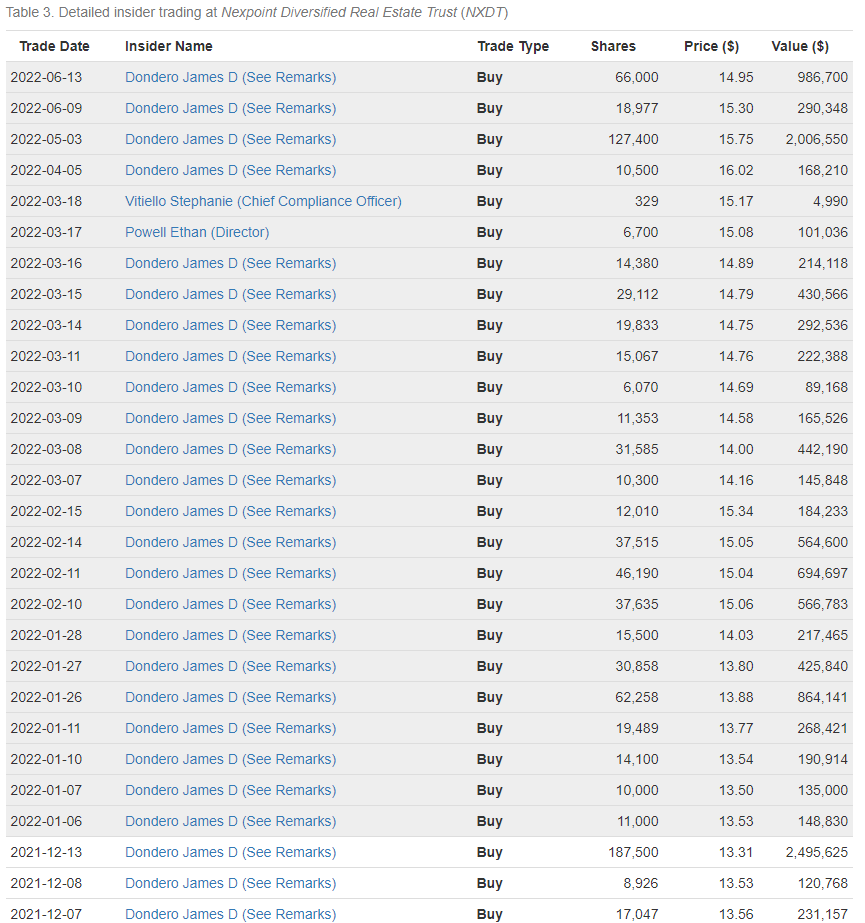 It's a cheap stock, but not for long…
Transition to REIT
In 2020, management announced that they were going to transition the closed-end fund into a REIT. In August 2020, shareholders approved the vote.
Why transition to a REIT?
The biggest reason is because it will open up a whole new assortment of investors that can invest in the security.
Not many retail investors (and no professional investors) choose to invest in closed-end funds. However, retail investors love dividend-paying REITs. Further, once the transition to REIT is complete, the stock will be added to REIT indexes and REIT index funds and ETFS will be "forced" to buy the stock.
In its proxy statement, NexPoint shared several charts that showed why a REIT structure is superior to a closed-end fund structure.
It hard to argue that the plan to convert to a REIT is not compelling. And insiders agree as they have been relentlessly buying shares on the open market.
Conversion is Imminent
This transition process has taken a long time. Shareholders approved the transition to a REIT back in August 2020.
It's taken longer than expected, but the transition looks imminent
Why?
First:
In its proxy (March 2022), NXDT wrote: "The conversion process is nearly complete – the company now qualifies as a REIT for tax purposes and lacks only final deregistration approval from the SEC."
Second:
The SEC Filed an 8F-2 NFC form (June 2022) stating, "An order granting the request will be issued unless the Commission orders a hearing." A request for a hearing needs to be received by the SEC by June 27, 2022.
No hearing requests = REIT transition is complete
What Happens After Approval is Granted
My guess: a nice pop and the stock grinds its way to NAV. The company will start hosting quarterly conference calls, providing guidance on EBITDA and FFO like other REITS. And perhaps update its dividend policy.
Passive investors will come into the stock. On average, diversified REIT's with a market cap of $500MM+ have ~27% passive ownership (http://NAREIT.com) 27% ownership represents 101 days of average trading volume for NXDT!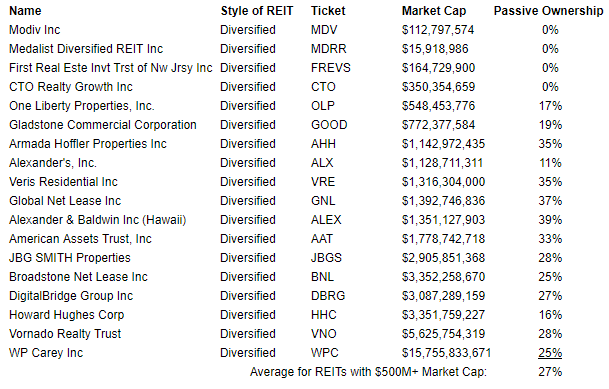 Plus, what will the company do with all its cash? It has at least $126MM of cash (23% of market cap) from its MGM realizations.
Massive buyback?
Big special dividend?
A lot of good options.
Conclusion
1) I think the risk/reward profile of NXDT looks compelling at the current valuation
2) A near term catalyst should unlock value
Risks
REIT Conversion Never Happens. While I believe that the REIT conversion will occur, there is no guarantee that it will. Further, it could be delayed indefinitely.

Mitigant: The CEO's continued insider buying gives me confidence that the REIT conversion, while delayed, will happen. If the REIT conversion does not happen, downside would be mitigated given the stock trades at a large discount to NAV. In this scenario, I believe the management team could take other actions (such as a large share repurchase) to close the gap to NAV.

Real Estate Market Crashes

Mitigant: The real estate market could take a dive give the current market environment. Nonetheless, NexPoint looks well positioned given its focus on single family rental and storage sub sectors. Further, the company's cash balance of $126MM+ adds to downside protection.
Disclaimer/Disclosure
Rich Howe, owner of Stock Spin-off Investing ("SSOI"), own shares in NXDT. All expressions of opinion are subject to change without notice. This article is provided for informational purposes. Please do your own due diligence and consult with an investment adviser before buying or selling any stock mentioned on www.stockspinoffinvesting.com.